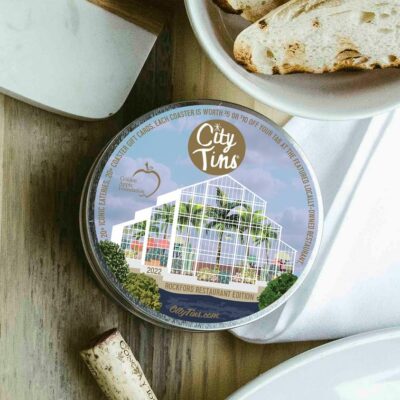 City Tins is an extra gifty, ultra thrifty tin chock full of value.
The Rockford City Tin features coasters providing $10 off any in-house purchase of $25 or $5 off carryout purchases at 19 local restaurants (Alchemy at Aldeen; Alvarez Restaurant; Baci's Kitchen; Backyard Grill; Fiesta Cancun; Fozzy's; Franchesco's Ristorante; Greenfire Restaurant Bar & Bakery; House of India; Jax Pub; Joe's Casa Di Amici; Josef Barbados; Oscar's Pub & Grill; The Pomodoro; RBI's; Rascals Bar & Grill; Rock-Pho'd; Sam's Ristorante and Sisters Thai Cafe).
And bonus: $10 off purchases at Porch and Roxy Carmichael Boutique shops, too! This is up to a $210 value for just $30!
Staff and board members can sell you some but the best way for you to find a tin would be to head over to Roxy Carmichael's Boutique, located near State/Alpine or Porch Inc., located near Woodman's. If you would prefer your tin shipped to your home, order online. Proceeds benefit our programs supporting local teachers and classrooms. We have a limited supply of these amazing coaster gift card sets — get yours now!
Thank You To the City Tins Sponsors