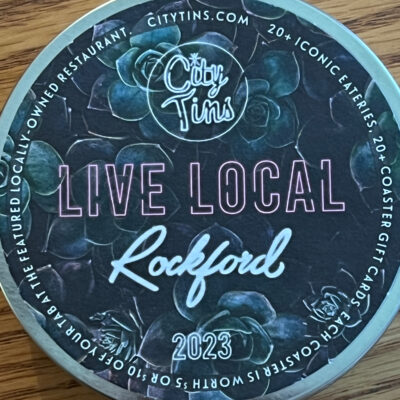 City Tins helps you save money at local businesses while also supporting Golden Apple Foundation of Rockford!
The Rockford City Tin features coasters providing $10 off any in-house purchase of at least $25 (or $5 off carryout purchases of at least $25). For 2023, 20 local restaurants (Alchemy at Aldeen; Backyard Grill – Loves Park; Fozzy's; Franchesco's Ristorante; Garrett's Restaurant & Bar; Greenfire Restaurant Bar & Bakery; Jax Pub; Joe's Casa Di Amici; Josef Barbados; Korean BBQ; Los Cocos Locos of Alvarez Mexican Restaurant; Lucha Cantina; Neds Diner; Omakase Rockford; Oscar's Pub & Grill; The Pomodoro; Prime; Rock-Pho'd; Sam's Ristorante and Sisters Thai Cafe) are participating.
Bonus: You also get $10 off purchases of at least $25 at Porch Inc., Roxy Carmichael and Lallygag Boutique shops, too! This is up to a $230 value for just $30!
Staff and board members can sell you some, but the best way for you to find a tin would be to head over to Roxy Carmichael's Boutique, on Alpine Road near East State Street; Porch, located near Woodman's; Lallygag Boutique on East State Street near Alpine; or Anderson Japanese Gardens on Spring Creek Road. If you would prefer your tin dropped off locally to your home or office, order online. Proceeds benefit our programs, which support local teachers and classrooms. We have a limited supply of these amazing coaster gift card sets — get yours now!